Tank Cleaning & Decontamination

It is vital that oil and fuel tanks are decontaminated on a regular basis to remove any undesirable accumulated materials such as incompatible products, solids or chemicals.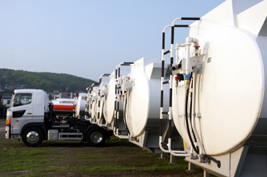 Tanks can be cleaned, emptied or decommissioned. Our expertise covers all types of tanks and vessels. Where manned entry is required we strictly follow safe working practices, using fully qualified, experienced operatives fully equipped with the latest safety apparatus.
We can also remove decommissioned tanks from site, managing the entire process safely and with minimum disruption, even with the most difficult to access areas.
Contact us for more information
Waste Management Services
Waste Carriers Licence
CBDU92124
Environmental Permit No.
EPR/QP3137MM