Garage and Automotive Waste

We provide a collection service designed specifically for the garage and automotive industry. Our aim is to provide an ongoing service that enables clients to maintain a safe, clean, and efficient working environment by removing a comprehensive range of waste materials on a regular basis.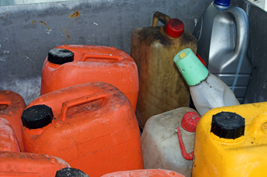 We will collect:
Rags
Waste oil
Batteries
Tyres
Anti-freeze
Brake fluid
Paints
Spray cans
Contaminated fuel
Solvents
We have own fleet of specialist waste collection vehicles allowing us to provide an efficient, flexible service to all of our customers throughout the UK.
Contact us for more information
Waste Management Services
Waste Carriers Licence
CBDU92124
Environmental Permit No.
EPR/QP3137MM