Drummed & Packaged Hazardous Waste Disposal

Our priority is to ensure that our clients comply with all current legal requirements relating to waste removal. Prior to disposal, any drummed or packaged waste must be sampled. Central Waste Oils maintains a constant data and sample collection service to ensure that your business is in accordance with Environmental Protection Regulations.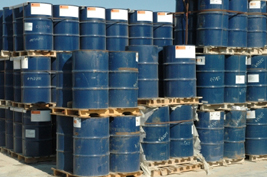 We help a wide range of industries deal with all types of hazardous waste including:
Acids
Paints
Oils
Cyanides
Contaminated water
Sludge
We manage the complete process from consultation through to disposal, re-drumming or re-packaging materials where necessary.
Our own fleet of specialist waste collection vehicles allows us to provide an efficient, flexible service to all of our customers throughout the UK.
Contact us for more information
Waste Management Services
Waste Carriers Licence
CBDU92124
Environmental Permit No.
EPR/QP3137MM