Asbestos Removal & Disposal

In high concentrations asbestos is a potentially highly hazardous material and there are strict regulations governing its disposal. Once a site has been identified as containing asbestos we will conduct a detailed survey of the area to establish what levels of the material present.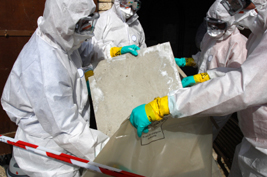 Our fully trained staff will then carry out the disposal process, isolating contaminated areas before transporting the asbestos away in enclosed skips.
Contact us for more information
Waste Management Services
Waste Carriers Licence
CBDU92124
Environmental Permit No.
EPR/QP3137MM